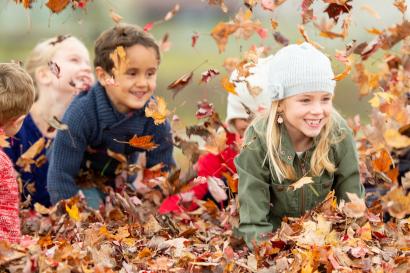 Top 5 Fall Fundraiser Ideas for Schools
Large variety of kitchenware, home accessories, holiday and novelty items, and personalized gifts. Offer over 1,500 products selling out of a brochure or online.
Reversible roll wrap. Offer a wide assortment of superior heavyweight wrapping paper with unique designs for any occasion.
Request your info kit
We'll send you our latest brochures to review in the mail.
How Do Fall Fundraisers Work?
With so many options, fall fundraiser ideas for schools are plentiful. Groups raise more money selling gift items and wrapping paper in the fall than any other time of the year.
To get started, select one of our fall brochures. Each student receives a catalog, order form, prize flyer, and a money collection envelope. Also included is a step by step participant information letter.
When you meet with your group, explain why they're raising money and how many items you want them to sell. They should only approach people they know.
Once your sale is over, send us your order forms for processing. You'll then receive your sales report and invoice.
We'll also work with you to schedule your delivery date. After paying your invoice, the remainder is your profit.
What Makes Our Fall Fundraiser Ideas Better?
High-Value. We offer the best fall, winter, and holiday merchandise in school fundraising. Your buyers will love our exclusive gift wrap, cutting-edge household gadgets, and more.
Larger Variety. Our fall catalogs have the largest product selection in the industry. This means more sales for your group.
Prepackaged Orders. Every order arrives boxed by seller. This helps make distribution super easy.
Unique Incentives. Inspire your students to sell even more by adding one of our exciting prize programs.
Free Shipping. We have low order minimums and offer inside delivery.
Make More Online. You'll also have access to our huge online store. Sellers receive bonus prize credit. Sell online only? Learn about our virtual fundraising ideas
Best Customer Care. We aim for 5-star reviews, so you receive the best service possible.
Free to Start. You don't pay us until you collect your money. We'll send you everything you need to start raising money with no upfront costs.
Questions About Fall Fundraisers
Questions
What are the most profitable fall fundraiser ideas for schools
Answer
According to PTO Today, schools raise more than $1.5 billion each year selling products.
Questions
How long does a brochure sale last?
Answer
2 full weeks including weekends.
Questions
Which catalog fundraisers are the most popular?
Answer
Most schools fundraise in the fall using large variety holiday shoppers.
Questions
How much money do schools raise?
Answer
It depends on a variety of factors like the size of the school and the socioeconomic makeup. It's not uncommon for a school with 500 students to bring in $30,000 or more.
Questions
Is it better to sell early in the fall or wait?
Answer
Most schools start fundraising right after school starts. Their goal is to sell ahead of other groups in their area. But many organizations sell before the holidays. This is when people may be more apt to purchasing gifts.
Questions
How can we have a successful fall fundraiser?
Answer
Here are 3 things to consider: 1.) Have a purpose that people are willing to support, 2.) Set an individual student and school-wide sales goal, and 3.) Determine the best way to motivate your students to sell.
Questions
Do lower-priced fundraisers work?
Answer
It depends on whether your community is price-sensitive or not. Our all $10 shopper is popular but you may make less profit per item because of the lower cost. On average, our regular brochures raise more money for schools.
Fall Fundraising Suggestions & Tips
Set an individual seller goal to help you meet your group's fundraiser goals.
Encourage your participants to sell out of both their brochure and online.
Incentivize students to invite friends and family to make online purchases.
Remind students to collect money upfront with their orders.
Periodically check on seller progress.
Consider drawings during your sale to give participants the opportunity to win prizes.
On a tight budget? Offer group-related privileges instead of paying for extra incentives.