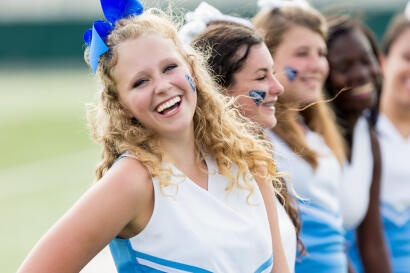 Top Cheerleader Fundraising Ideas
Our products are easy to sell, and our unique incentives motivate squads to achieve higher sales goals.
Up to 90% profit. Set your cheerleader program apart by offering your community fundraising products they'll love.
Request your info kit
We'll send you our latest brochures to review in the mail.
How Do Cheerleader Fundraisers Work?
Cheer squads have lots of expenses, including uniform, camp, and competition fees. Groups raise more money selling products than any other type of fundraiser. That's more than $1.5 billion annually.
To sell a product we offer 2 methods:
Show a Product
Take Brochure Orders
When showing a product, your cheerleaders will be able to exchange the product for money on the spot. This requires ordering the product before your sale. To proceed, simply submit our online purchase order form.
So how much product should you order? We provide a 'Calculate Your Profit' tool to help. Enter your group size and seller goal, and our calculator will tell you how much to order and your profit.
If you're interested in a brochure fundraiser, we'll send you everything you need free of charge. Each cheer member receives a brochure, order form, and money collection envelope.
After you've finished, send us your order forms. Once processed, we'll send you an invoice and ship your merchandise. Each seller receives their prepacked order.
Your profit is the difference between the amount you collect and your invoice.
Why Our Cheerleader Fundraising Ideas?
Best Value. We only offer top-quality products that people already want to buy at the best possible price.
Largest Selection. Choose over 100 unique products from 14 categories.
Unique Incentives. Motivate your cheerleaders to make more sales. We offer traditional, cash, and customizable sportswear incentives at no cost.
Huge Online Store. Besides selling out of a brochure, your group can also make sales online. Only sell online? See our virtual fundraising ideas for cheerleaders
Free Shipping. Low order requirements for brochure sales, and there is no charge to ship products.
Fast Customer Service. If you ever have a question, contact us. We're here to make things go smoothly.
No Cost to Start. Book your cheerleader fundraising program today for free.
Questions About Cheerleader Fundraisers
Questions
Questions
What unique cheerleading fundraisers make the most money?
Answer
Offer a discount card featuring your squad on the front and local store discounts on the back. Or promote spirit and pride. Sell your custom school tumbler with your name, mascot, and colors.
Questions
How do we start a cheerleader fundraiser?
Answer
Begin selling for free by starting an online fundraiser, ordering a product to sell, or taking orders showing a brochure.
Questions
Which fundraiser offers the highest cheerleader profit?
Answer
You can make as much as 90% profit selling personalized scratch cards.
Questions
What are some quick and easy cheerleader fundraising ideas?
Answer
The cheapest products everyone's already familiar with sell the fastest. Lollipops, candy or snack bars, and beef jerky are big sellers.
Questions
How can we get more cheerleaders to fundraise?
Cheerleader Fundraising Ideas & Tips:
Have a formal kickoff meeting to discuss your sales goal with your squad.
Tell students that any checks are payable to your organization.
Remind your group to be positive and always smile when approaching people.
Encourage your cheerleaders to break the sale down into daily selling goals.
Remind students about the last day they can make sales and keep selling up until the very end.
More Ideas For Cheerleading Fundraisers