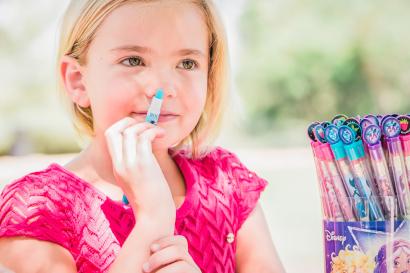 A Fundraiser That Makes Scents
Our smencils fundraiser products feature a variety of scented pencils and pens made from 100% recycled newspaper and plastic.
2-year scent guarantee. All smencil products come inside individual recyclable freshness tubes. Help the environment as you reach your school fundraiser goal.
How Does a Smencils Fundraiser Work?
Let's get to the point, Smencils and Smens make great school fundraisers. They're fun to sell, and students love the scents.
With so many themes, it's easy to see why schools sell them around Halloween, Christmas, and Valentine's Day. Smencils make the perfect non-candy fundraiser.
First, choose a product to sell. Then use our 'Calculate Your Profit' web tool to help you determine the number of cases to order.
Once you submit our purchase order form, we'll ship you your Smencils free of charge. You'll have 15 days from the delivery date to pay your invoice and keep the rest as profit.
And speaking of profit, you can make up to 45%.
What Makes Our Smencil Fundraising Programs Better?
Best Sellers. We offer the top 11 selling Smencils and Smens in fundraising.
Larger Selection. Each product comes with a huge variety of scents.
Free Shipping. We deliver all orders at no charge.
Low Minimums. Low 1 case minimum order.
No Cost to Start. Start a Smencil fundraiser for free.
Questions About Smencil Fundraisers
Questions
Questions
What is a Smencil?
Answer
A Smencil is a scented pencil made from environmentally-friendly materials.
Questions
How much do Smencils cost?
Answer
Smencils sell for $1.00 each ship by the case. Each case contains a certain number of inner buckets.
Questions
Is a Smencil a No.2?
Answer
Yes, each Smencil is a No.2 graphite pencil.
Questions
How long do Smencils last?
Answer
Scents are guaranteed to last for two years. Every Smencil comes inside its own recyclable plastic freshness tube.
Questions
How are Smencils made?
Answer
Smencils are made from 100% recycled newspaper and plastic.
Questions
How do Smencils get their smell?
Answer
They are soaked with gourmet liquid scents.
Questions
Are Smencils toxic?
Answer
The scents are hypoallergenic, non-toxic, and generally regarded as safe. But, the manufacturer does not claim they are 100% harmless.
Questions
What's the difference between a Smencil and a Smen?
Answer
Both are made with recycled newspaper and plastic. A Smencil is considered a scented pencil, and a Smen is a scented clickable pen.
Smencil Fundraising Suggestions & Tips
Plan to sell around a specific theme or before a holiday like Christmas, Valentine's Day, or Halloween.
Remind your sellers to only approach family and friends.
Make sure no other competing group is selling smencils at the same time.
Establish an end date for your fundraiser and remind your sellers how much time they have left.
Use a tracking sheet to track how many smencils have been distributed to each student to sell.
MORE SMENCILS FUNDRAISER IDEAS