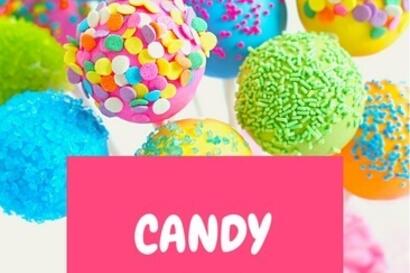 Sweet Candy Fundraising Profits
You'll love our candy fundraisers for schools. From our Yummy Lix® lollipops to our Jelly Belly® products, our candy sells quickly.
No upfront cost. Starting at just 50¢, our candy products are easy to sell. Enjoy low 1 case order minimum requirements, plus free shipping.
Request your info kit
We'll send you our latest brochures to review in the mail.
How Do Candy Fundraisers Work?
US confectionery sales totaled $34.9 billion in 2015 and should reach $38.1 billion by 2020. It's no wonder candy is the most popular school fundraiser.
You can order most of our candy products by submitting a purchase order. Once you receive your candy order you'll have 15 days to pay your bill. This gives you time to make sales and collect money.
Or you can take orders using a candy fundraiser catalog. After your sale is over, send us the order forms for processing. You'll then receive a sales report and invoice. We would work with you to schedule a delivery date for your order.
No upfront payment required. You keep the difference between the money you collect and your invoice.
Why Our Candy Fundraising Products?
Top Quality. We guarantee 100% satisfaction. Your customers will recognize our candy and love the taste.
Larger Selection. We offer 12 brands of lollipops, 6 chocolate bar products, & 3 pretzel rod varieties. And lots of delicious flavors. We also carry Jelly Belly® and boxed chocolates.
More Profit. Up to 58% profit.
Online Store. If selling Jelly Bellies or boxed chocolates, you can raise even more money online. Only sell virtually? See our online candy fundraiser options.
Free Shipping. We don't charge for shipping direct sale products. With a candy fundraiser catalog, we have low order requirements.
Best Customer Service. If you have a question, we respond back quickly. Our goal is your complete satisfaction.
No Cost to Start. Start a candy fundraiser for free.
Questions About Candy Fundraisers
Questions
What are the best candy fundraisers for schools?
Answer
Candy bars are the most popular, but pretzel rods are unique. Lollipops have a fast turnaround.
Questions
What are some easy candy products to sell?
Answer
Most $1 products are easy to sell because it's a convenient amount, and most can afford to purchase products at that price. The most common $1 candy products include candy bars and lollipops.
Questions
How many candies come in a case?
Answer
It depends on the type of candy. Lollipops have 640 units, while $1 pretzel rods and candy bars have 240 each.
Questions
What is your lowest priced candy?
Answer
Lollipops, candy bars, and lollipops usually sell for $1 each.
Questions
What is the least amount of candy we can order?
Answer
You must order at least one case.
Questions
What candies are gluten free?
Answer
Lollipops, jelly beans, and candy bars contain no gluten. Pretzel rods contain wheat, so they are not gluten-free.
Questions
What candy is allergen free?
Answer
Lollipops are 100% allergen-free. They have no dairy, peanuts, tree nuts, eggs, fish, shellfish, or soy.
Questions
Do candy bars have peanuts?
Answer
Candy bars and pretzel rods are manufactured in a facility free of peanuts, so they are certified peanut-free. Only products manufactured in a 100% peanut-free facility can carry a "peanut-free" label. Although pretzel rods are certified peanut-free, they are not free of tree nuts.
Candy Fundraising Ideas & Tips
Use our 'Calculate Your Profit' tool to tell you how many cases to order. Simply enter your group size and how much you want each student to sell.
Meet with your sellers at the start of your candy sale to explain the process and discuss sales goals.
Remind students to only approach people that they know.
Be sure your students share what organization they represent and why they're selling.
Tell your students to set a reasonable daily sales goal.
Regardless of the outcome, students should always thank people for their time.
Reserve your fundraiser early. This ensures competing groups aren't selling a similar product at the same time.
MORE IDEAS FOR CANDY FUNDRAISERS
Candy fundraisers are about as American as it gets. They're affordable and can help you reach your financial goal fast. If you're thinking about a candy sale, be sure to mind your audience and pair it with the right seasons and holidays.
Audience is the easiest part of a candy sales campaign: kids! Kids have always been and will always remain the biggest consumers of candy. This makes selling candy ideal for younger grades, like elementary school.
Try marketing it during an afterschool program when kids have split up to work on homework or play outside. Students will be eager to buy a treat as a personal reward at the end of the day. And a little sugar can help them stay focused to get their homework done.
Our $1 candy bar fundraisers are perfect for kids in need of an after school pick-me-up. Even if your audience is primarily older students, they'll still want to buy candy. For middle or high schools, consider selling candy in the morning before school. This way everyone can plan ahead with a between class snack.
Holidays are prime-time for candy sales. Americans spend over $2 billion each year on Halloween candy and $1.9 billion on Easter. So try to plan your fundraisers when people are consuming more candy anyways.
When buying from a student, people don't have to contend with the craziness of stores. They'll also feel good because they're buying to support education.
Our candy programs offer an assortment of options to suit multiple holidays. Try our heart shaped lollipops for Valentine's Day or the Yummy Star lollipops around the 4th of July. And of course you can sell our Yummy Lix® lollipops anytime. They're our top selling flavor.
Jelly Belly® offers a large selection of well-known jelly beans. You'll even find unique name brand flavors like Krispy Kreme Donuts®, Snapple®, Cold Stone Creamery®, and Sunkist®.
The best part about candy is the affordability and simplicity. Aim to fundraise during a time of day when money is accessible to kids. Whether it's before or after school, they can borrow from a parent. In fact, after school sales might just tempt parents to buy a little sweet treat for themselves.
Another good idea for a candy sale is during carnivals or book fairs. This is when kids may have brought money with them to take part in the activities. Notices are key for events like these! You'll want parents to remember to send a few extra dollars with their kids.
Candy fundraisers are also very "volume-friendly". It's likely that students will buy multiple pieces, given the low price-point and high appeal. On the back end, accounting for items and payment is easy with 50¢ or $1 candy options. Candy sales are the classic and convenient idea to reach your goals.
Be sure to pair our candy brochures with an outstanding prize program. Reward students in the form of cash, sportswear, or toys and gadgets. Selling candy is even sweeter when students see exciting prizes in their future.