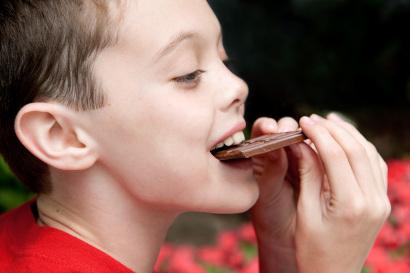 The Candy Bar Fundraiser for Schools
We offer the most popular candy to sell including Creamy Caramel, Milk Chocolate Almond, and Crispy Rice chocolate bars where you can make up to 58% profit.
100% peanut-free. Unite with schools everywhere and create your own 'Peanut Free Zone'.
How Do Candy Bar Fundraisers Work?
Considering fundraising with chocolate? Or better yet, what about peanut-free candy bars for your next fundraiser? Peanut allergies are a growing health concern and are 1 of 8 foods that cause the most serious reactions. In fact, they are the most common food allergy in children.
All of our candy bars are 100% peanut free.
To get started, select a product. You don't need to prepay for a candy fundraiser because we accept purchase orders as long as you're a public school. After your order ships, we'll email you tracking information to let you know when it will deliver.
You'll have 15 days to pay your invoice once your candy bar boxes arrive. This will give you the needed time to sell and collect your money.
Why Our Chocolate Bar Fundraiser?
Best Quality. Our candy bars meet the highest manufacturing standards in the industry.
Greater Selection. We offer many delicious flavors in both a $1 and $2 jumbo-sized chocolate bar.
Free Shipping. There is no cost to ship your candy bars.
Higher Profits. Make up to 58% profit.
Low Minimums. Order 1 case or more.
No Upfront Cost. Start a chocolate bar fundraiser today for free.
Questions About Candy Bar Fundraisers
Questions
Questions
How many candy bars come in a case?
Answer
It depends on the candy bar. Our $1 bars come 240 a case, and our $2 jumbo size contains 120 bars.
Questions
Do you offer peanut-free candy bars?
Answer
Yes, all our candy bars contain no peanuts. We manufacture both our $1 and $2 product lines in a peanut-free zone.
Questions
Can you sell candy bars at school?
Answer
You are able to sell candy and other snack foods on campus starting 30 minutes after school. The USDA only requires that you not sell these items during school hours.
Questions
Is there a way to sell candy during school hours?
Answer
Each state has different requirements. You can contact your school district to find out the rules of your state and how to obtain a possible exemption.
Questions
What is a fundraising exemption?
Answer
Some foods don't meet the wellness guidelines. So the Healthy Hunger Free Kids Act allows states to make their own exemptions. Schools may be able to sell these foods as fundraisers on campus during regular school hours. States determine how many of these fundraisers they'll allow, and how often.
Candy Bar Fundraising Suggestions & Tips
Use our 'Calculate Your Profit' tool to help you determine how many candy bar cases to order.
If possible, select an exclusive kickoff date so you won't have to compete with other groups.
Remind students to only approach people they know to make sales.
Make sure your students introduce their group, and why they're selling candy bars.
Use a tracking sheet so you know how many boxes of candy bars are unpaid at any given time.
MORE CANDY BAR FUNDRAISER IDEAS
What's a quintessential sales campaign? A chocolate bar fundraiser! Sometimes they're on playgrounds, sometimes they're outside of libraries. Most often, if you're an adult, they're in your secret stash. If candy bars feel like they're everywhere to you, it's because they are!
We can link eating chocolate to elevated mood and lower cholesterol levels. This reduces the risk of cardiovascular and stress-related diseases. Worldwide, candy bars generate $101 billion USD. In the USA alone, they account for about $23 billion in revenue.
And like a post-Halloween sale aisle, our candy bars are sure to generate some revenue for your school. These are some of the easiest fundraisers to have, and they can happen right inside the walls of your school.
Considering candy for fundraising? Variety and appeal are two of the biggest benefits when it comes to fundraising with chocolate. We offer everything from dark and regular chocolate to caramel and almond chocolate. ensuring that everyone can get their sweet, smooth, crunchy fix. The breadth of options means you can have repeat customers trying different flavors.
Three of our candy bar fundraiser candies sell for $1, which is both inexpensive and convenient. Single dollar bills make it much easier to match inventory with profits. This is also appealing to younger students who are more likely to have some quarters on them than a few dollars. Dealing in small bills and having a portable product means you can sell them anywhere!
One of the best selling points is our candy bars are peanut-free. There's no chance of coming into contact with peanuts or peanut byproducts. Every kid can enjoy a chocolate bar, unless of course they're allergic to chocolate. And teachers will be glad they won't have to deal with peanut allergies in the classroom. Although they may wish there was a little less sugar. Learn 9 tips that can increase fundraising sales
To reinforce the dollar chocolate bar, "America's Variety" each candy bar resembles a $1 dollar bill. This makes the message clear, and communicates the idea of how affordable each candy bar is. A fun way to sell these would be in bulk to a teacher who is doing a lesson on currency and counting money. They may want to make the activity a little more exciting than using generic fake-money.
All orders come with complimentary free-shipping. So if you ordered too little then you can order more. Better safe to start with a manageable amount and increase as the demand increases. This tends to happen when selling chocolate and that's what makes a candy fundraiser for schools so worthwhile.