Scratch Card Fundraiser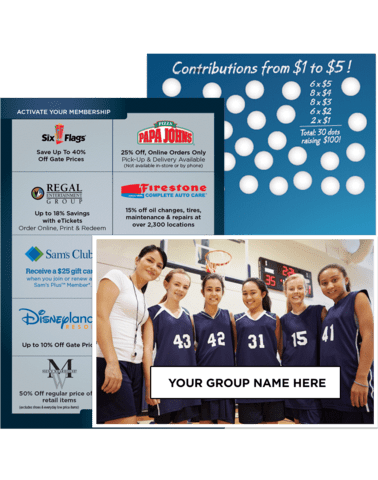 With our scratch card fundraiser supporters make a $1 to $5 donation by scratching off dots in exchange for brand name savings coupons.
Your scratch card is personalized with your group name and picture on the cover. Design your scratch card
Card Pricing
| | | | |
| --- | --- | --- | --- |
| Cards | Cost/Card | Profit | Profit/Card |
| 10-24 | $20 | 80% | $80 |
| 25-99 | $15 | 85% | $85 |
| 100+ | $10 | 90% | $90 |
Product Details
Packaging: 10 card minimum
Card Size: 4" x 6"
Average Price: $20.00
Delivery: 7 business days after artwork approved. Free shipping
How to order scratch cards
Based on the size of your group, you can determine how much you should order as well as calculate your profit. You will qualify for pricing discounts based on the size of your order.
We recommend providing 1-2 cards to each seller. To help determine the number of cards to order, multiply the number of cards per seller by the number of sellers.
For example, a sponsor with 24 students may ask each student to collect donations using 1 scratch card:
1 card / seller x 24 sellers = 24 cards
In our example above, the group makes $1,920 profit by collecting donations from 24 cards making $80 profit per card.
24 cards x $80 profit / card = $1,920 profit
Use the following chart as a guide to set your profit goal based on the number of students in your group and how many scratch cards you want each student to sell:
Scratch Card Profit Chart
| | | | |
| --- | --- | --- | --- |
| Sellers | 1 Card/Seller | 2 Cards/Seller | 3 Cards/Seller |
| 10 | $800 | $1,600 | $2,550 |
| 25 | $2,125 | $4,250 | $6,375 |
| 50 | $4,250 | $9,000 | $13,500 |
| 75 | $6,375 | $13,500 | $20,250 |
| 100 | $9,000 | $18,000 | $27,000 |
| 250 | $22,500 | $45,000 | $67,500 |
| 500 | $45,000 | $90,000 | $135,000 |
| 1,000 | $90,000 | $180,000 | $270,000 |
Reviews
So far the experience with the scratch card fundraiser has been good.

Lori Holland

-

Baseball Booster
Scratch Card Fundraisers for Schools
One of the most interactive school fundraisers that we offer is the scratch card fundraiser. It's a surprise-driven fundraiser that will allow you to leverage volume by small donation thresholds.
How do scratch card fundraisers work?
Here's how a scratch card fundraiser works. First, each sheet contains 30 dots. Each dot has an amount hidden under it with a specific dollar value from $1 to $5. Participants take turns scratching off a dot, donating whatever amount is revealed to them underneath. At the end, you should have collected $100 towards your fundraiser, profiting anywhere from $80-90 depending on the number of scratch off cards that you order.
What do scratch card fundraisers offer customers?
There's something else in it for the donator other than the satisfaction of helping a school fundraiser: each donor receives a sheet of coupons as a way of saying thank you. The coupons include Disney, AMC, Papa John's, and more. The family-focused coupons are a great in-kind offering for a relatively small donation. Generally, families will save more than they spend if they use even half of the coupons offered through the creative and engaging scratch card fundraiser—an excellent selling point for your student fundraisers.
What should I know about scratch card fundraisers?
You have the option to customize the cards as well with a photo and a title. This can help drive home your school fundraising mission and theme and create a sense of spirit around the fundraiser. You could, for instance, use these scratch cards as a fundraiser for a whole class. For a class of, say, 30 students you would order the cards at $15 each, profiting $2550! These may seem like small items, but don't underestimate how much money they can raise.
Creative scratch card fundraising ideas
If you are using the scratch off fundraiser for a team, try walking around with the cards at a school sports game. Explain the rules ahead of time and do the fundraising before, during, and after to maximize the number of people your reach. The elements of odds and lottery make this an exciting team fundraiser that is less about selling and more about the game of the scratch card itself. This is especially appealing if your school is a little burnt out on traditional fundraising ideas.
Another fun idea to really amp up the idea of odds is to write numbers on every dot and have people pick their number either by choice or from a hat. This adds another layer of engagement to the scratch card surprise.
While this fundraiser could theoretically work with all ages, it's better suited for adults or older students like high schoolers who you can be sure have cash on them. Scratch card fundraisers also tend to work well for those on a shorter fundraising window. The options for hosting the scratch card fundraiser are endless but be sure to have your coupon sheets on hand whenever you're collecting donations. The instant incentive and show of gratitude will keep your customers feeling appreciated.