Scratch Card Fundraiser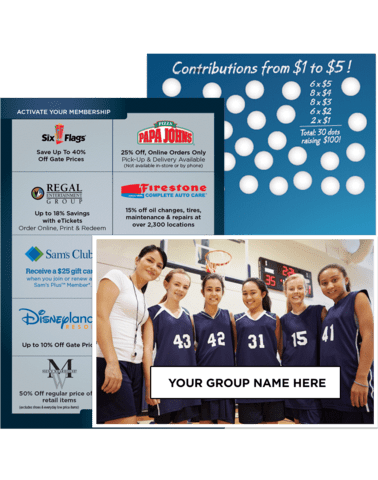 With our scratch card fundraiser, supporters make a $1 to $5 donation by scratching off dots. As a thank you, they receive a coupon sheet entitling them to savings at restaurants, movies, and more.
We'll personalize your scratch card with your group name and picture on the cover. Design your card
Card Pricing
| | | | |
| --- | --- | --- | --- |
| Cards | Cost/Card | Profit | Profit/Card |
| 10-24 | $20 | 80% | $80 |
| 25-99 | $15 | 85% | $85 |
| 100+ | $10 | 90% | $90 |
Product Details
Packaging: 10 card minimum
Card Size: 4" x 6"
Selling Price: $20.00
Payment Options: Learn more
Delivery: 7 business days after artwork approved. Free shipping
Scratch Card Fundraiser Questions?
How it Works
How do we raise money?
Scratch cards are a fun and interactive way to introduce your cause to potential donors. Each card contains 30 dots. As dots are scratched off, dollar amounts ranging from $1 to $5 are revealed. Supporters donate whatever amounts are uncovered.
Are there any fees?
Since scratch cards are ordered up front, you have the following payment options:
Purchase order: If you're a public school, you can order scratch cards without having to pay up front. A purchase order is a legally binding document between us and your group. Payment is due within 15 days of receipt of your cards. This gives you time to collect enough money to pay your bill. You then keep the rest as profit. Go to purchase order form
Credit card: Use our secure checkout process to pay for your cards up front. We accept VISA, MasterCard, American Express, or Discover. Select our 'Add to cart' button at the top of the page to get started.
Check: Mail in your payment. Your cards will ship once your check clears. We accept a personal check, money order, or cashier's check. Submit our payment form and we'll email you an invoice along with our mailing address.
Do you offer pricing discounts?
Yes we offer volume discounts. For more information see our 'Card Pricing' table at the top of the page.
How soon can we start?
Scratch cards deliver within 7 business days after the sponsor approves their artwork.
How long is the fundraiser?
We recommend giving your sellers 1 week to sell their scratch card allocation and turn in the money.
TIP: To ensure timely and accurate money turn-in, use a tracking sheet.
Can we customize our card?
Yes. We customize your card with your photo and organization name. This helps drive home your mission and creates a sense of spirit around the fundraiser.
Simply upload your image on our design form. When you enter your group's name, we'll add it to your card.
We'll send you a proof to review and approve before we print and ship your scratch cards.
Do scratch cards expire?
No, there is no expiration date on scratch cards.
What are savings coupons?
Each donor receives a sheet of coupons as a way of saying thank you. The coupons include discounts at retailers like Six Flags®, Papa John's®, Macy's, Firestone and more.
The family-focused coupons are a great in-kind offering for a relatively small donation. Families save more than they spend if they use any of the coupons offered—an excellent selling point.
How many cards should I order?
The size of your order depends on the number of participants in your group. We recommend ordering 1 card per participant.
You can also use our 'Profit Calculator' at the top of the page.
Can participants earn prizes?
We don't offer any prize programs with our scratch card fundraiser.
Product Information
How much do they cost?
Cards start at $20 each. Larger orders receive a price break.
What is the card size?
Each card folds into a 4" x 6" size.
Making Sales
Is there a minimum order?
Yes. The minimum order is 10 cards.
How much money can we make?
Estimating your profit is easy. Consider the following example.
A sponsor orders 60 scratch cards, 1 for each participant:
The card order is between 25-99 so the cost is $15 / card

Each card brings in $100 so the net profit is $85

60 cards x $85.00 / card = $5,100.00 profit
QUICK TIP:
Enter your group size and participant goal into our 'Profit Calculator' found on the top right.
Do you take back unsold cards?
Because we personalize your scratch cards for your group, we don't take back returns.
Shipping
Where do orders ship to?
Scratch cards are mailed out of our New York warehouse to all lower 48 states.
Is there a shipping fee?
All orders ship for free. You also receive free shipping on any reorders.
Reviews
Lori Holland

-

Baseball Booster