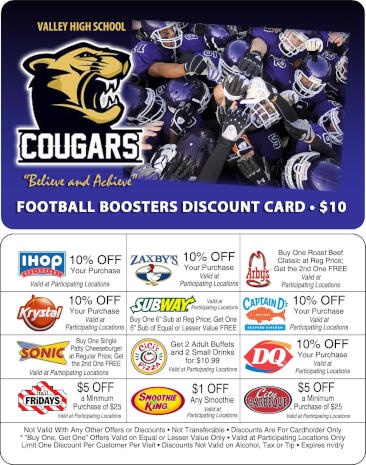 With our discount card fundraiser your group receives a personalized design on the front, and your choice of local businesses on the back. Promote your cause while saving people money.
Card Pricing
| | | | |
| --- | --- | --- | --- |
| Cards | Cost/Card | Profit % | Profit/Card |
| 250-499 | $6.00 | 40% | $4.00 |
| 500-999 | $5.00 | 50% | $5.00 |
| 1,000-1,999 | $4.50 | 55% | $5.50 |
| 2,000-2,999 | $4.00 | 60% | $6.00 |
| 3,000+ | $3.50 | 65% | $6.50 |
Product Details

Discount Card Fundraiser Questions?
How it Works
How do we raise money?
Groups profit when their participants sell discount cards to friends and family.
How do we pay?
Since discount cards are ordered up front, you have the following payment options:
Purchase order: If you're a public school, you can order discount cards without having to pay up front. A purchase order is a legally binding document between us and your group. Payment is due within 15 days of receipt of your cards. This gives you time to collect enough money to pay your bill. You then keep the rest as profit. Go to purchase order form
Credit card: Use our secure checkout process to pay for your cards up front. We accept VISA, MasterCard, American Express, or Discover. Select our 'Add to cart' button at the top of the page to get started.
Check: Mail in your payment. Your cards will ship once your check clears. We accept a personal check, money order, or cashier's check. Submit our payment form and we'll email you an invoice along with our mailing address.
Order discount cards at a reduced price and then sell them at full retail. The difference is your profit.
Do you offer pricing discounts?
Yes we offer volume discounts. For more information see our 'Card Pricing' table at the top of the page.
Can we customize the front?
The design options for the front of your card are endless. For example, we can put a picture of your group, team or schedule, school logo or a special cause.
You'll be able to upload your image when you complete your design form. Your card should include your group name, logo, and any other relevant information.
Can we see our card before it prints?
Yes, we'll ask you to review and approve your card before it goes to print. This gives you the opportunity to check your design, grammar and spelling. If necessary, we can remove a business, but new ones cannot be added.
How soon can we start?
You should plan ahead for your discount card fundraiser. You'll receive your customized cards within 30 days of receipt of your order. Your cards will ship within 7 business days once you've approved the front and back of your card.
How long is the fundraiser?
We recommend giving your sellers 1 week to sell their discount card allocation and turn in the money.
TIP: To ensure timely and accurate money turn-in, use a tracking sheet.
How many cards should I order?
The size of your order depends on the number of participants in your group and how many cards you want them to sell. Consider asking each participant to sell 5-10 cards.
You can also use our 'Profit Calculator' at the top of the page.
Can participants earn prizes?
We don't offer any prize programs with our discount card fundraiser.
How often can cards be used?
Each merchant on your card will honor their discount one time each day.
Cards are not valid with any other coupons, discounts, offers or promotions. You may not use them for alcohol, tax or tip, and are non-transferable.
Do discount cards expire?
Yes, after you receive your cards, they'll expire on the first day of the 13th month.
For example, if you receive your cards in August, they'll expire on September 1st of the following year. We'll put the date the card expires on your card.
How do businesses get placed?
We do the work of contacting and securing the merchants for your discount card. We contract with local, regional and national businesses from around the country.
You choose the merchants. So we can build a card that is well-designed and easy for potential buyers to read, we limit each card to 12 merchants.
We ask that you provide at least 36 businesses when you complete your design form. Occasionally, we need to contact additional merchants.
We recommend that you select well-known businesses. 80% of a typical card are eating establishments.
How do businesses benefit?
The benefits for businesses include free advertising, valuable publicity, and increased foot traffic. There's no cost to them for being on your card.
This is also an opportunity to give back and support the cause of a local school or organization.
Merchants must sign an agreement stating they'll honor their discount. We'll send the merchant a copy of the finished card so they can forward it to their employees.
Product Information
How much do the cards sell for?
Cards typically sell for $10. Some groups may request a higher price but we don't recommend selling them for over $20. If you're interested in increasing your profit even more, we'll put whatever price you want on your card.
What is the card size?
375" x 2.125" (credit card size)
What is the quality of the card?
We produce all cards to the following standards:
Full layout front & back
Typesetting front & back
Image placement
30 mil plastic (credit card thickness)
4 color prints on both sides of card
All colors are available except royal blue
What types of discounts are there?
We'll ask merchants to provide a "buy one get one free" offer, a percentage off, or a dollar discount. But at the end of the day, it's up to the merchant to decide which offer works best for them.
What if a business has multiple locations?
When we contact a particular business about being on a card, if they say yes, we always ask, "Do you own or manage any other locations in the area?" If they say yes, we invite them to agree to accept the card at all of those other locations as well. Sometimes a business will say yes, while other times they just want the discount to be valid at the one location we're calling about.
Because it is not possible to list multiple locations on the card due to limited space, if a business is valid at more than one location, we will create a webpage showing all of the valid locations and then list the website address on the card itself.
Making Sales
Is there a minimum order?
Yes. The minimum order is 250 cards.
How much money can we make?
Estimating your profit is easy. Consider the following example.
A sponsor decides to order 600 cards. The group has 75 members which means that each participant will need to sell 8 discount cards:
75 participants x 8 discount cards / participant = 600 cards
600 cards x $10.00 / card = $6,000.00 gross sales
$6,000.00 x 50% profit = $3,000.00 profit
The profit percent would be 50% because the card order is between 500-999. See 'Case Pricing' table at the top of this page. (Volume discounts apply)
QUICK TIP: Enter your group size and participant goal into our 'Profit Calculator' found on the top right.
Can we order more cards?
Yes, you can order extra cards at the same rate as your initial order. For example, if your initial order was for 500 cards, you received 50% profit. So on any reorders, you'll receive the same profit.
The smallest reorder quantity is 100 cards. Since your card is already in our system, printing usually takes about 3-5 business days. This does not include the time needed to ship your order.
Do you take back unsold cards?
We don't take back unsold cards since we build the card exclusively for your organization.
Shipping
How soon do we receive our order?
You'll receive your customized cards within 30 days of receipt of your order.
Where do orders ship to?
Discount cards ship out of our Ohio warehouse to all lower 48 states.
Is there a shipping fee?
All orders ship for free. You also receive free shipping on any reorders.