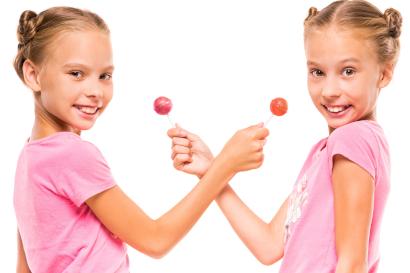 Offer More Lollipop Fundraiser Flavors
For kids and adults alike, there's nothing like a mouth-watering lollipop! Choose from a variety of options like the #1 selling Yummy Lix®, Color Xploder™, or even Hot Pops.
Make up to 60% profit. Our gourmet lollipops are easy to sell at $1 each and have a fast turnaround.
How Does a Lollipop Fundraiser Work?
A lollipop fundraiser is one of the fastest and easiest ways to raise money. We all love them and everyone can afford to buy one.
Many groups sell lollipops around a special event or theme. Yummy Hearts are great for Valentine's Day. Lolliween pops are the perfect Halloween treat. And since Lolliball lollipops are football shaped, you can sell them at a football game.
If you need to know how much to order, our 'Calculate Your Profit' web-tool will come in handy. From any lollipop page, enter your group size and student goal.
We accept purchase orders so there is no up-front payment required. Payment is due within 15 days of product delivery. This will give you time to sell your lollipops and collect the money.
Your profit is the difference between what you collect and your invoice.
Why Our Lollipop Fundraiser?
Top Sellers. It's simple. We offer the top 12 lollipop brands in fundraising.
Bigger Selection. Choose from a huge assortment of shapes, sizes, colors and flavors.
Free Shipping. No matter how many times you order, there is no shipping fee.
More Profit. Make up to 60% profit.
Low Minimums. Low 1 case order requirement.
No Cost to Start. Start a lollipop fundraiser for free.
Questions About Lollipop Fundraisers
Questions
Questions
What is the top selling lollipop?
Answer
The lollipop with the most sales is the Yummy Lix® lollipop fundraiser.
Questions
Are lollipops gluten-free?
Answer
Lollipops that may contain gluten have special fillings like bubblegum. But, all our lollipops are gluten free. They also do not contain nuts or eggs.
Questions
How much do lollipops cost?
Answer
Lollipops sell for $1 each. With a 1 case order you'll make 50% profit. Each case has 640 lollipops.
Questions
What ingredients are in lollipops?
Answer
Basic lollipop ingredients include sugar, corn syrup, natural and artificial flavors.
Questions
How many calories do lollipops have?
Answer
Yummy Lix® contains 110 calories per lollipop and no calories from fat.
Questions
Can we custom order lollipops by flavor?
Answer
No. All lollipops already come with their own pre-packaged flavors.
Questions
What are the most popular lollipop flavors?
Answer
Some of the favorites include cotton candy, watermelon, pink lemonade and blue raspberry.
Lollipop Fundraising Suggestions & Tips
Tell your students that they can only sell to people that they know and feel comfortable with.
Remind your group that it's better to sell a little each day than to wait and have to sell a lot later.
A smile and a 'thank you' goes a long way. Even if someone says 'no'.
Make sure to keep track of your inventory. Have each group member write down their name and contact information. They should also include how many lollipops they've been issued to sell.
Try not to sell the same product at the same time as another competing group.
More Lollipop Fundraiser Ideas
It can be hard to pick a product for your school, and even harder when there are so many flavors within that one product. Lollipop fundraisers are one of the most popular options for schools. They offer a vast selection of flavors for every age group and occasion.
Out of the $483 million in hard candy sales each year, the top two lollipop companies claim $55 million alone. It's clear that they're popular, and will not likely go away, but where exactly did they come from to begin with?
References of our beloved candy-on-a-stick can be traced back to ancient Egypt. People candied nuts and dried fruits with honey on sticks. The English then stirred rods into boiled down sugar. This created a closer version to the modern lollipop. The first ones that made their way into the American market are rumored to have been soft candy.
And speaking of rumors, nobody seems to know where the name "lollipop" originated. Some say it was in the streets of London because of the direct translation to the phrase "tongue slap." Others say it was named after the famed American racehorse, "Lolly Pop".
Now lollipops are everywhere—from banks to hospitals, and school fundraisers. We can all agree that the most exciting part of visiting the bank with your parents as a child was the lollipop.
Sometimes, they're even used to deliver medicine to kids. Walk down the vitamin aisle and you'll notice the lollipops. They've even breached the world of health and nutrition. The most popular vitamin brands now sell lollipops loaded with daily multivitamins.
Over time, lollipops have become quintessential to the American childhood. Whether it was during summer camp or after school clubs, they were everywhere - and for good reason. With lots of flavors, shapes, sizes, and colors, they're great for any special event or holiday.
Lollipops work well because of the excitement and nostalgia built around them. And while they may be most enticing to a younger market, their appeal knows no age limit.
The most successful lollipop fundraiser happens around the holidays—especially Valentine's Day. Heart-shaped cherry and strawberry lollipops are a given on this day. Consider combining these with small cards and selling them as a bundle.
Yummy Lix® lollipops profit $320 a case with the suggested selling price of $1 a pop. but you can profit up to $320 if bought in bulk to meet your school fundraising needs.
Or perhaps you want to raise money at a sporting event. This is where you'll need the Lolliball lollipops, which come in 6 football-shaped flavors.
Some of the zanier flavors include Banana Split, Pomegranate and Strawberry Cream. A good variety and assortment of flavors is sure to create excitement and enthusiasm. You'll also want to encourage the purchase of multiple lollipops. Because who can choose just one?