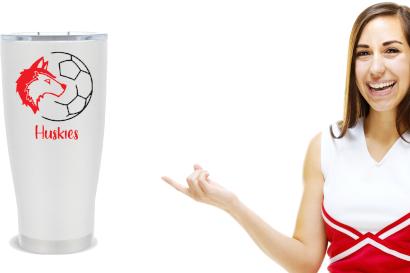 Personalize Your Fundraiser
Promote school pride and spirit by adding your mascot to our tumbler. Earn up to 50% profit.
Make your fundraiser unique. Tumblers are made with high quality brushed stainless steel and double-wall constructed for enhanced durability.
How Do Tumbler Fundraisers Work?
Looking for a unique fundraising idea? When raising money, nothing shows school pride and spirit more than a custom tumbler.
You'll be able to show off your school name, colors and mascot to your entire community. But be sure to reserve your sale before anyone else gets the same great idea.
First select a tumbler. You don't have to pay anything up front, but we'll still need a purchase order.
Use our 'Calculate Your Profit' tool to determine the number of cases you need to order. It even estimates your profit. Enter your student count and how many tumblers you want each of them to sell.
Once we receive your signed purchase order, we'll email you a link to an online form so you can design your tumbler. We'll then send you an artwork proof.
Once you give us the go-ahead, we'll print and ship your tumblers along with your invoice. You'll have 15 days from your delivery date to pay your bill. This will give you time to collect the money. Your profit is the difference between the total amount collected and your invoice.
Why Our Tumbler Fundraiser?
Higher Quality. We use high-grade stainless steel with vacuum sealed double-walls. Our tumblers are also thermal insulated.
Larger Selection. Create the perfect product from 4 unique tumbler options. You'll have a huge number of designs and color choices.
Free Shipping. There is no charge to ship your order.
High Profits. Make up to 50% profit.
No Startup Cost. Start a custom tumbler fundraiser for free.
Questions About Custom Tumbler Fundraisers
Questions
Questions
Are custom tumblers dishwasher safe?
Answer
Yes. We recommend placing tumblers on the top rack.
Questions
Are stainless steel drinkware products safe?
Answer
Stainless steel is very resilient, and is the most viable and healthy choice. Learn more
Questions
Are tumblers BPA free?
Answer
Our tumbler products use 18/8 food-grade stainless steel. This makes them completely safe for human use. They are non-toxic and BPA free. Our plastic Tritan tumbler is also BPA free.
Questions
Are tumblers thermal insulated?
Answer
Yes. Our products are double-walled and will keep liquid cold and warm for an extended period.
Questions
How do you design a custom tumbler?
Answer
Once you order your tumbler, we'll send you a design form to complete. You'll be able to upload your artwork directly.
Questions
Can we sell licensed tumblers?
Answer
Yes. You can sell officially licensed NFL, MLB, D1, NHL & NBA tumblers. Learn more
Custom Tumbler Fundraising Suggestions & Tips
Your tumbler should represent the entire school, not only your group. This way, you'll be able to sell to a much larger audience. For example, more people will buy a tumbler that says, "Jones High School Eagles". "Jones High School Band" would be more desirable to those interested in your band.
Since you're handing out tumblers to students to sell, be sure to keep track of your inventory. Use a fundraiser tracking sheet. Students will need to record their contact information as well as the number of tumblers issued.
Reinforce a deadline date for turning in money.
Remind your students to only approach people that they already know.
Students should tell people what group they represent and why they're raising money.
Reserve your custom tumbler fundraiser with the front office. This will help ensure that no other group is selling the same product.
MORE TUMBLER FUNDRAISER IDEAS
Tumblers are everywhere - the office, the classroom, and even the baseball field on chilly fall nights. The tumbler fundraiser is a practical and effective way to raise more money for your school.
The 30 oz Alpine Tumbler has a variety of uses and the volume to sustain quite a bit of liquid. If you're associated with a sports team at an event, have a large cooler full of drinks on hand as you discuss pricing.
Potential customers will think about their own tumbler as they make purchasing decisions. Alpine Tumbler comes 20 to a case, so these tumblers can profit you anywhere from $240 to $300 a case.
Stainless tumblers are double-wall constructed and vacuum sealed. This means they'll keep drinks hot or cold for an extended period of time.
Our tumblers are a good option for parents or teachers who want their coffee to go and need it to fit in their car's cup holder. Provide coffee or a cold beverage while selling to help people imagine what they might use them for.
If you want a tumbler that is both microwave and dishwasher safe, take a closer look at Tritan. There are 24 Tritan tumblers per case; but you must order at least two cases. Tritan is also FDA approved, comes with a lifetime guarantee, and is a 22-ounce tumbler.
These products are perfect for players on their way to a conference playoff, and even for the coaches! Selling the tumblers to classmates, school faculty and family will be a breeze. The plastic tumblers are also microwave safe if you need to heat up your drink, and they're dishwasher safe as well.
Kendal Tumbler comes in 4 different color options while Alpine offers 3. Groups can have up to 3 printed colors on their stainless tumbler. You will receive a digital proof of your design within three business days. Once you approve, we'll move forward and print your tumblers.