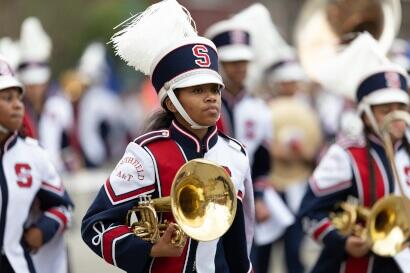 Top Band Fundraisers for Schools
Equip your students for success and choose a better fundraiser. And raise more money by offering them our free and exclusive incentives.
Customizable products. Make your sale stand out and sell products with your school name, logo, and colors.
Request your info kit
We'll send you our latest brochures to review in the mail.
How Do Band Fundraisers Work?
Band fundraising is a way of life if you're a high school music student. Most band directors admit, it's expensive to be competitive. Boosters and directors work constantly to bring in money. Whether you're fundraising for band trips or new uniforms, if you want to compete it's going to cost money.
The most common way for groups to raise money is to sell products. Items like wrapping paper, and cookie dough account for more than $1.5 billion in annual profits.
You can have your students take orders out of a brochure, or order a product first and have them sell it "in hand". Either way, no upfront payment is required.
If you'd rather take orders first, we'll send you a brochure, order form, and money envelope for each band member. When finished, send us your order forms so we can process, pack, and ship you your merchandise.
You'll receive a complete sales report, invoice and we'll contact you to set up your delivery date.
When selling direct, payment is due 15 days after you receive your product. This will give you time to sell the product. Your profit is the difference between the total amount collected and your invoice.
To get started, complete our online purchase order form.
Why Our Band Fundraising Ideas?
Retail-Quality. We offer the finest products at the best possible prices. Be sure to ask us about our 100% product guarantee.
Huge Selection. Finding the right fundraiser is easy. Choose from over 100 unique products.
Motivational Incentives. Our prize programs motivate students to sell. Offer traditional, cash, or sportswear with your group name and colors. Prizes are free.
Complimentary Online Store. If doing a brochure sale, your students can also raise money online. Only sell online? See our online band fundraisers.
Free Shipping. Products ship free of charge, and there are low brochure sales minimums.
Dedicated Customer Service. We're here to make sure you have a smooth sale. You'll experience a quick response to your questions.
No Cost to Start. Start your band fundraiser for free.
Questions About Band Fundraisers
Questions
Questions
What are the most profitable marching band fundraisers?
Answer
Seasonal shoppers are very popular. Niche fundraisers that work well include candles, popcorn, and discount cards.
Questions
How do high school bands raise money?
Answer
Many bands do their fundraising through their band booster. Some of the more popular fundraisers include cookie dough, frozen food, and flowers.
Questions
What are some unique fundraising ideas for bands?
Answer
Consider offering a product that also promotes school pride and spirit. Tumblers, discount cards, and scratch cards have your school name, colors, and mascot.
Questions
What are some fast and easy high school band fundraisers?
Answer
Try selling low-priced items that sell fast like candy bars, beef jerky, or lollipops.
Questions
What is a high school band booster?
Answer
Band booster clubs are outside organizations that help bands raise money. They pay for things like uniforms, trips, and contest entrance fees.
Band Fundraising Suggestions & Tips
Use our 'Calculate Your Profit' tool to determine the amount of money you can make and how much you'll need to order.
Set individual sales goals for your students.
Have a kickoff meeting with your band members to discuss your goals and explain the process.
Tell your students that checks are payable to your organization.
Remind everyone to share their name, organization, and why they're raising money.
Communicate safety first. Talking to strangers is not allowed.
Use a tracking sheet when handing out products to sell. Have students right down their contact information and number of items issued.
More Band Fundraiser Ideas
Whether raising money for instruments, uniforms, or travel, we have a program for you. Our band fundraisers offer great products for buyers and appealing incentives for students.
These 2 ingredients are the recipe that will help you reach your financial goals.
Our personal favorite fundraising product for a band fundraiser is popcorn. With variety pack popcorn you can let people pick their flavor on the spot. Selling along the sidelines or in the bleachers during a game will be a breeze. Especially when you offer that jalapeño cheddar flavor… yum!
Consider placing "This Popcorn Supports the Middlebury Marching Band" on the popcorn bags. It never hurts to go for some extra marketing.
Another good option for a fundraiser is the Discount Card. They can be customized with the band's group photo on the front and options for food to grab after the game on the back.
Sell individually packaged goodies at events where the band is playing. For example, the homecoming football game or other school events. Folks will be able to see exactly what their money is supporting at a time when they'll enjoy a tasty snack.
First, identify the appropriate incentive for the age range of your band members. Traditional prizes, like headphones and scooters may be better for younger band members. whereas cash prizes would probably motivate older ones. The apparel prizes would work well for both!
Consider polling your group to determine what type of prize would be most appealing. For smaller groups, like band fundraisers, traditional prize programs are likely more workable. But, a Super Party event for larger band fundraisers may be a highly engaging option.
Prizes are free of charge, and the group retains a 40% profit on items sold. Students will benefit by receiving prizes for their hard work. You'll also be able to raise awareness throughout the sales process about the benefits of a band program.
The cash prizes come in two ladder-like incentive structures. 'Cash Master' offers up to $132 in cash prizes but retains a higher profit on products for the group. 'Master Blaster' offers up to $200 in cash prizes but has a lower profit.
Band members will be motivated by the opportunity to help their group reach a big overall goal. It's a win-win for school bands and their musical members!