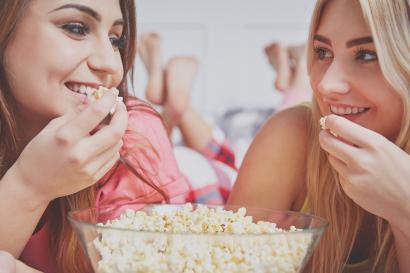 Gourmet Popcorn Fundraiser for Schools
Offer only the best popcorn to your customers. Popcornopolis® is the finest quality brand in fundraising.
Make up to 55% profit. We use gluten and GMO free corn, and our popcorn contains zero MSG. Your customers will taste the difference.
How Do Popcorn Fundraisers Work?
Using popcorn for fundraisers is a very popular choice for schools. It's delicious but it's not your typical snack. Popcorn's high in several important nutrients, such as vitamins, minerals and polyphenol antioxidants.
To start a popcorn fundraiser, select one of our flavors from the above product list. You can also determine the number of cases to order and your profit. Just enter your group size and student goal in the 'Calculate Your Profit' tool.
You're also eligible for price discounts based on how much you order. And ordering is easy. We accept purchase orders with no payment due until 15 days after delivery.
Once you collect the money, your profit is what you keep after paying your invoice.
Why Our Popcorn Fundraiser?
Top quality. Our popcorn is made with the best recipes using the finest ingredients.
A Healthier Alternative. Popcorn is a whole grain that's full of vitamins and minerals.
Larger Variety. We feature 21 different products.
Higher Profits. The more you order, the higher the profit margin.
Low Minimums. Reasonable 1 case minimum order requirement.
Free Shipping. No shipping fees on your original order, or any reorders.
Questions About Popcorn Fundraisers
Questions
Questions
What is your best popcorn fundraiser?
Answer
Our top selling flavors are cheddar cheese and caramel. Chicago Style popcorn is also popular.
Questions
Is popcorn gluten free?
Answer
Most popcorn naturally contains no gluten. But it also depends on the flavors, toppings and additives used. Our popcorn is gluten free. Learn more<
Questions
Is popcorn healthy?
Answer
In its purest form, popcorn is a healthy, whole-grain snack. It's rich in antioxidants and fairly low in calories.
Questions
Is popcorn a smart snack?
Answer
'Smart Snacks' are foods that meet national nutritional standards. They can thus be sold on campus during the school day. Popcorn is a whole grain. So as long as the first ingredient on the label is 'popcorn', then general standards are met. But some of the added flavors have added fats and sugars. The nutritional facts of each flavor must be checked to verify standards are met. Learn more about Smart Snacks
Questions
How should popcorn be stored?
Answer
Make sure it's kept at room temperature.
Questions
What is the shelf life of your popcorn?
Answer
Our popcorn will stay fresh for at least 2 months.
Questions
Why do various popcorn flavors have different bag weights?
Answer
The volume and number of kernels in each bag is relatively constant. The difference is in the weight of the coatings used for the different popcorn flavors.
Questions
Can we sell popcorn online?
Popcorn Fundraising Ideas & Tips
Keep track of the popcorn distributed to participants to sell. Use a tracking sheet that records their name and the number of bags issued.
Give buyers options. A few of our products offer more than 1 flavor.
Don't issue more bags until sellers return their initial round of popcorn money.
Check in with your group periodically on their sales progress.
Have a kickoff meeting to discuss your popcorn fundraiser goals.
Set a deadline date for turning in the money.
Remember to tell people why you're selling popcorn.
MORE POPCORN FUNDRAISER IDEAS
It's estimated that Americans eat 13 billion quarts, or 52 billion cups, of popcorn every year. That's an average of 168 cups of popcorn per person per year! Of those 13 billion quarts, we consume somewhere around 30 percent in schools or theaters. This means popcorn fundraising is prime money raising territory.
The modern discovery of popcorn originates from a location in New Mexico called the "Bat Cave." Kernels were found, along with some ears of corn, that could be carbon dated back 5,600 years. Depictions were found in Mexico from 300 A.D. of a god wearing popped kernels on headpieces and clothing.
It is now believed that Native Americans consumed popcorn. Eventually colonists caught on and began to combine it with molasses as a sugary treat. What a rich history for a school fundraising favorite!
Popcorn became essential during the Great Depression. This is when street vendors in Chicago could mass-produce it for virtually no cost. But the real explosion of popcorn came with the movie industry. Those same street vendors tended to areas with large amounts of people. Specifically theaters.
Even with TV and Netflix, movie theaters remain synonymous with popcorn. With microwavable popcorn, the market now leans more towards residential consumption. Now, popcorn fundraising is a staple in elementary, middle and high schools.
Today with so many toppings and flavors, popcorn creates a more interesting experience. Especially compared with that classic air-popped crunch. Many people use popcorn as a snack to keep a rumbly tummy at bay. This means your sales aren't limited to the neighborhood. Sporting events and after school activities are both great opportunities.
The gourmet popcorn fundraiser for school groups is one of the more popular ways to raise money. Suggested selling prices range from $2 to $10 per bag, starting at 40% profit. But, if you buy additional cases, the profitability grows. For example, 10 cases of cheddar cheese will profit you $108 per case.
Popcornopolis® gourmet popcorn comes in 4 delicious flavors. The brand name, with its great quality and taste, speaks for itself.
'Sweet Chaos' will tantalize your taste buds with 8 delicious flavor options. Each bag offers a generous portion that will satisfy most any craving. The flavors are distinctive as well. Go with the more familiar kettle corn, sea salt or butter. Or, consider more unique options like Jalapeño Blue Cheese, Honey Chipotle, Peanut Butter Cup, or even Cake Batter.
And you won't find a healthier popcorn because 'Sweet Chaos' contains no gluten, GMO, or artificial preservatives.
Planning a larger fundraiser? Bulk purchasing is perfect to help you meet your goals fast.
Here are some great popcorn fundraising ideas. How about a school carnival or outdoor day? Or maybe a spirit day for high schoolers or setting up a concession stand at a game. Finally, want superb quality, extraordinary taste, or name recognition? Then a Popcornopolis® fundraiser is definitely in order.
Check out
10 fun facts you never knew about popcorn