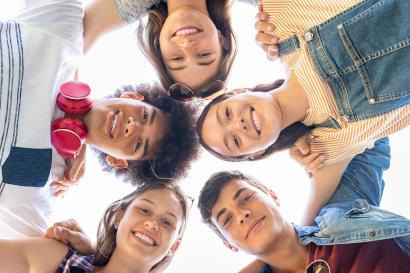 Feature KIND® Healthy Fundraiser Snacks
With KIND® bars, people can experience a delicious and nutritious snack. Our fundraising snacks lead with a nutrient-dense first ingredient, like whole grains.
Choose a healthier snack. KIND® snacks are 100% gluten-free, high in fiber, low in sugar, and taste great!
How Do Snack Fundraisers Work?
U.S. consumers are enjoying snacks like never before. During the past five years, we've snacked more often between meals. A recent survey found that 57% snack at least once a day.
Everyone needs to eat healthy. But we also want food that tastes delicious. So can you have the best of both worlds? With KIND® fundraiser snacks, the answer is a definite yes.
Select an enticing snack bar flavor from our product list to get started. Before placing your order, use our calculator to determine the many cases you need and your profit.
You also qualify for pricing discounts based on the size of your order. And ordering is easy. If you're a school, we accept purchase orders with payment due 15 days after delivery. Or you can always pay with a credit card.
Once you collect the money, you keep your profit after paying us.
Why Our Snack Fundraiser?
KIND® Quality. When you sell KIND® products, you achieve instant credibility with your customers.
A Healthier Alternative. Our snack bars are made with wholesome ingredients.
Larger Variety. We feature six popular options.
Higher Profits. The more you order, the higher your profit margin.
Low Minimums. Reasonable 2-case minimum order requirement.
Free Shipping. ThereThere'sost to ship your order.
Questions About Snack Fundraisers
Questions
Questions
What is the best selling snack fundraiser?
Answer
Nut Bars are a big seller. They combine dark chocolate nuts and sea salt with 5 grams of sugar or less per serving.
Questions
Are KIND® snack bars non-GMO?
Answer
KIND® snacks do not contain genetically engineered ingredients.
Questions
Do KIND® bars meet smart snack requirements?
Answer
Foods that meet specific national nutritional standards are called 'Smart Snacks'. The USDA's guidelines for snacks are rich in whole grains, contain at least 1/4 cup of fruit and vegetables, have a fruit, vegetable, protein food, or dairy product as the first ingredient, and include 10% or more of the percent daily value of potassium, dietary fiber, vitamin D, or calcium.
Questions
Do your snack products contain nuts?
Answer
All of our products are made in a facility that processes tree nuts, peanuts, soy and sesame. But our Simple Crunch Bars are nut allergy friendly.
Questions
Are your snack fundraisers Kosher?
Answer
KIND® snacks are Kosher certified by the Orthodox Union. Snacks that are Kosher and do not contain dairy contain an "OU" symbol. Products that are Kosher and contain or have been exposed to dairy use the "OU-D" symbol.
Questions
How long do KIND® bars stay fresh?
Answer
The guaranteed shelf life is 4 months.
Questions
Are KIND® snack bars gluten free?
Answer
Yes. We test all products to ensure they meet FDA requirements to classify them as gluten-free.
Snack Fundraising Suggestions & Tips
Keep track of all snack bars distributed to participants to sell. Use a tracking sheet that records their name and the number of bars issued.
Give buyers options. Consider selling more than one flavor.
Have a kickoff meeting with your group to discuss your snack fundraiser goals.
Check in with your group periodically on their sales progress.
Don't issue more bars until participants return the money from their initial allocation.
Set a deadline date for turning in the money.
Remember to tell people why you're selling snack bars.
More Snack Fundraising Ideas
When we think about a school fundraiser, one of the first products that comes to mind is candy. And it's no wonder. Candy is a U.S. favorite, and it's easy to sell.
Candy bars sell for a cheap $1, and everyone's a willing buyer. With various flavors to offer, groups will end up making money in a hurry.
But there are drawbacks to selling candy. Consuming too much sugar can have health drawbacks. Excess-sweetened foods can lead to obesity, blood sugar issues, and cardiovascular disease.
Thus, many schools are looking for effective alternatives. But since money plays such a big role, it can be difficult to find profitable options that are also healthy.
Beef jerky is high in protein and low in sugar, but it doesn't satisfy that sweet tooth craving. Enter snack bars. Unlike candy, they're a healthier yet tasty alternative.
KIND® was founded with the idea that snacks should be nutritious and delicious. While our snack bars are high in nutrients, they contain little added sugar. Nut Bars, for example, combine sea salt sprinkled over nuts and dark chocolate. It's a satisfying nutty snack with only 5 grams of sugar.
There's nothing to hide: no secret ingredients you can't pronounce, artificial flavors, preservatives, or sweeteners. Instead, KIND® bars are made from whole nuts, fruits, and whole grains.
And our snacks do not contain genetically engineered ingredients. That's why the Non-GMO seal appears on the majority of our bars. They're also gluten-free, low in sodium, with 0 grams of trans fat.
What mom wouldn't want their children eating a KIND® snack bar, let alone selling one? As most know, good nutrition alone won't raise big money for schools. Your product also has to have great taste. The entire package makes KIND® a great choice for your next school fundraiser. See the 15 best healthy & low sugar protein bars.