Image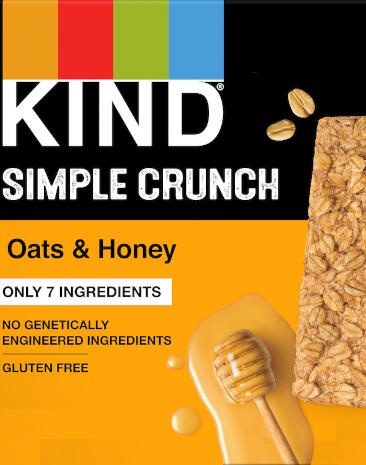 Simple Crunch Bars are made with only seven ingredients, like 100% whole grain oats, honey, and a hint of salt. A great source of fiber and nut allergy friendly. These bars deliver the perfect on-the-go crunch.
Nutrition facts are available upon request.
Case Pricing
| | | | |
| --- | --- | --- | --- |
| Cases | Cost/Case | Profit % | Profit/Case |
| 3-19 | $48 | 40% | $32 |
| 20-49 | $44 | 45% | $36 |
| 50+ | $40 | 50% | $40 |
Product Details
Packaging: 40 items per case (8 inner boxes of 5)
Item Size: 1.4 oz.
Selling Price: $2
Payment Options: Learn more
Delivery: Order ships within 3-5 business days. Free shipping

Questions about Simple Crunch Bars?
How it Works
How do we raise money?
Your group profits when participants sell Simple Crunch Bars to friends and family.
How do we pay?
Since the product is ordered upfront, you have the following payment options:
Purchase order: If you're a public school, you can order without paying up front. A purchase order is a legally binding document between your group and us. Payment is due within 15 days of receipt of the product, which gives you time to collect enough money to pay your bill. You then keep the rest as profit.
Credit card: Use our secure checkout process to pay for your product up front. We accept VISA®, Mastercard®, American Express®, and Discover®.
Check: Mail in your payment. Your product will ship once your check clears. We accept personal checks, money orders, or cashier's checks. Contact us
Order Simple Crunch Bars at a discounted price and then sell them at full retail. The difference is your profit.
Do you offer pricing discounts?
Yes, we offer volume discounts. For more information, see our 'Case Pricing' table at the top of the page.
How soon can we start?
Orders are delivered within 3-10 business days.
How long is the fundraiser?
We recommend giving your sellers one week to sell their product allocation and turn in the money.
TIP: Use a tracking sheet to ensure timely and accurate money turn-in.
How much should I order?
The size of your order depends on the number of participants in your group and how many simple crunch bars you want them to sell. Since orders ship eight inner boxes to the case, consider issuing two boxes to each seller.
To determine how many cases to order, divide the number of participants in your group by 4. Round up to the following case number if needed.
You can also use our 'Profit Calculator' at the top of the page.
Do you take back unsold products?
We do not accept returns. We aim to maintain the same high level of product freshness for every customer. The USDA also has stringent guidelines that we must adhere to.
TIP: Consider issuing unsold snack bars to participants who volunteer to sell them in exchange for a portion of the profit. This way, you will maximize your profits as much as possible.
Can participants earn prizes?
We don't offer any prize programs with our Simple Crunch Bars fundraiser.
Product Information
What do the bars sell for?
We suggest selling them for $2.00 each.
How many simple crunch bars per case?
40. Each case contains eight inner boxes of 5.
What is the size?
Each snack bar is 1.4 oz.
How long do they stay fresh?
The guaranteed shelf life is four months.
Are the bars healthy?
KIND® bars are high in nutrients. While they contain a little added sugar, it's low compared to similar product lines. Simple Crunch Bars contain only 5 grams of added sugar.
Here are the key benefits:
0g trans fat
Gluten-free
Good source of fiber
Kosher
Low glycemic index
Low sodium
No genetically engineered ingredients
Can Simple Crunch Bars cause allergies?
Nut allergies are the body's immune response to the proteins found in nuts. The body fights them off because it treats them as a potential threat. This response is an allergic reaction.
Simple Crunch Bars contain almonds, peanuts, and soy. They may contain tree nuts and sesame seeds, and nut shell fragments.
Making Sales
Is there a minimum order?
There is a 2-case minimum order requirement.
How much money can we make?
Estimating your profit is easy. Consider the following example.
A sponsor with 58 participants wants everyone to sell two inner boxes each (5 simple crunch bars/box):
58 participants x 2 boxes / participant = 58 boxes
116 boxes x 5 simple crunch bars / box = 830 simple crunch bars
830 simple crunch bars x $2.00 / simple crunch bar = $1,660 gross sales
$1,660.00 x 40% profit = $664.00 profit
The profit percentage would be 40% because you must order 15 cases. See the 'Case Pricing' table at the top of this page. (Volume discounts apply):
58 participants x 2 boxes / participant = 116 boxes
116 boxes ÷ 8 boxes / case = 14.5 cases (Roundup)
QUICK TIP: Scroll up, click the 'Calculate Your Profit' button, and enter your group size and participant goal.
Shipping
How soon do we receive our order?
Where do orders ship to?
Simple Crunch Bars ship from our New Jersey warehouse to all the lower 48 states.
How is our order packed?
Is there a shipping fee?
All orders ship for free. You also receive free shipping on any reorders.