Image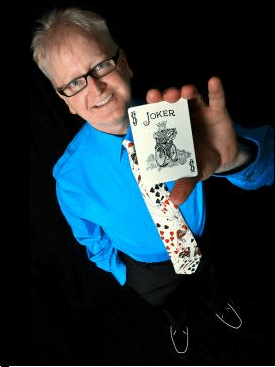 Mike Bent began his career in magic at age 6, when he checked out his first magic book from the library. That book started him on the path to a lifetime love of learning, creativity and performance that literally changed his life.
He started performing when he was 15 years old. By the time Mike graduated from Emerson College, where he studied children's writing with Jack Gantos (Rotten Ralph, Joey Pigza), he was performing his original magic and comedy routine at clubs and colleges throughout the country. This led to a performance at the prestigious Montreal Comedy Festival, and numerous television appearances on HBO, Showtime, ABC, NBC, CBS, Comedy Central and A&E.
Mike has been teaching professional comedy writing at Emerson College for more than 18 years. It's not unusual to watch a comedy show on television and see one of Mike's former students listed in the credits.
In 1992, Mike's life changed again when he became a dad, and he dedicated himself to providing quality children's entertainment. Voted "Best of Boston," he quickly became established as one of the top kids' show performers in the United States. His books, products and lectures have become the standard for the industry. As MAGIC magazine wrote, "Mike Bent really understands children's comedy." M.U.M Magazine (the official publication for the Society of American magicians) said, "There is no one in the universe that creates magic routines and comedy sight gags as novel and astonishing as Mike does. Throughout the hilarity, the magic he performs is strong: he doesn't let the gags get in the way of the mystery."
In 2003 Mike wrote and performed the National Fire Prevention Association's Get Out, Stay Out! education campaign seen by over two million children throughout the United States. He was also an advisor and contributor to the popular book Magic for Dummies. In 2009 Adams Media published Mike's first solo book The Everything Guide to Comedy Writing.
In 2005, 2006 and 2009, Mike was invited to perform alongside pop star Fergie, animal expert Jack Hanna and the Disney Channel's Aly & A.J at the White House for the Annual White House Easter Egg Roll, where he entertained the 30,000+ guests! The official program called Mike "one of the most creative and imaginative people in magic."
As a performer, teacher and dad, Mike knows how to use comedy and magic to entertain, educate and motivate children.
Request your info kit
We'll send you our latest brochures to review in the mail.