Image

Leverage demographic data to improve school fundraising outcomes
A regional nonprofit conducted workplace giving campaigns. Their fundraising efforts for the community at large depended on what hundreds of accounts generated through annual giving pledges and special fundraising events.
This nonprofit served a community with a workforce comprised largely of professional services, military and blue-collar manufacturing. This meant that volume of donors—and not the average donation—was the most critical factor for a significant proportion of the accounts. Lower median salaries at many of the companies meant that a pledge of $1 or $5 per pay period in exchange for a jeans day was of greater incentive value for hundreds of employees, rather than extravagant rewards for high-level donations. These smaller fundraisers drove value by volume.
Year after year, the nonprofit pulled in more than $20 million for their region, resulting in funding for critical programs and services.
While this was doubtlessly bolstered by significant individual and corporate gifts, the majority of the sum was still driven by workplace giving campaigns. What drove their success? The answer is a commitment to a data-driven understanding of the corporate culture of giving and sound contextual data to help understand the demographics of each company.
The good news is, most schools, churches, clubs and sports teams don't have a $20 million annual goal. The bad news is, most schools, churches, clubs and sports teams don't expect these core truths about fundraising to apply to them. No matter the size of your goal or organization, you can use a suite of free tools to implement what fundraising guru Penelope Burk calls donor-centered fundraising by learning the age, socioeconomic background, behaviors and culture of where you're fundraising. Then, you can start working with fundraising ideas that really work.
The School Fundraising Landscape
Big Fundraising Ideas believes in putting quality products in the hands of groups to help them meet their fundraising goals. It is our goal that we deliver the best fundraisers for elementary, middle and high school students. We also believe in giving you the tools you need to help choose the right product for your audience, which is why demographic data is such a powerful part of strategic fundraising.
Make no mistake: in the information age, every creative, high profit fundraising idea can and should be guided by a strategy grounded in facts. There's a lot of information out there to help you plan and execute a successful fundraiser, but it's important to know the broad context of your undertaking.
The National Association of Elementary School Principals (NAESP) studied the scope of school fundraising across the United States. Nearly 94% of schools use fundraisers to supplement the cost of necessary expenses, and the largest proportion of fundraisers generated either more than $75,000 or less than $5,000 annually.
From this, we can reasonably infer that fundraisers are pervasive in the educational community. The absence or presence of wealth, the average age of a community, the consumer behaviors and even the cultural trends have little to no bearing on whether or not a school will fundraise. For your school, this means that competition with other schools—and community organizations and nonprofits—is an almost certain factor to consider with when meeting your goals.
Add to that NAESP's estimate that most schools will conduct between 1-5 fundraisers annually, and even unique product selection may not be enough to help your school reach its goals. To be on the cutting edge of fundraising, even schools must consider their audience, and to do so, they need to make data part of the equation.
In our earlier anecdote, the nonprofit, while large, was still one among hundreds in a major metropolitan area. They, too, contended with competition from other nonprofits that very likely could make stronger appeals and had more attainable goals. But what our example did so well was make asks that were appropriate for the potential donors before them—something they were able to do only because they had data-driven approaches to fundraising. Just as they might ask a tenured C-suite executive later in her career for a $10,000 annual commitment and membership in an elite donor society, so you might ask older neighbors in a country club to consider purchasing premium flowers for your sports team. Based on income and age, both of these groups likely have more disposable income, and according to John Maynard Keynes, they're more likely to spend because of it.
This common-sense, facts-and-figures approach to fundraising might seem like the obvious approach, but a research-backed fundraising strategy might be the last thing a PTA or PTO endeavors to consider before launching a schoolwide campaign in addition to their other responsibilities.
Big Fundraising Ideas has curated some of the best free resources to help you assess the demographics of your target area. With these in your toolkit, you'll be able to cut through the competition by effectively targeting your products to the areas and audiences where your school (or community group) will be carrying out its fundraiser.
Fundraise to the Ages
It might not seem like a fundraising tool, but every ten years, you get that bulky mailer from the U.S. government asking your age, household income, number of children and a litany of other questions. It's a bit tedious, but it provides some of the most valuable information our nation gleans. What many don't know is that this information is readily available to everyone via the internet.
That's right—the U.S. Census might just be one of your school fundraiser's best friends. With the added bonus of providing a great opportunity for your students to use a robust research database, the online census allows users to look at information down to the zip code. You can find general statistics (usually medians) relating to household income and size. It's also one of the primary databases that can give you an accurate idea of the median age of an area.
It's tempting to assume an area around an elementary school is full of young families, but it may well be that there are other zip codes skewed much older or much younger in your school's zone. And, despite what they say, age is more than just a number. Age data gives you a sense of what might be useful or appealing to a given audience, which can quickly help you pick the right product to put in the hands of eager student sellers.
Applying Age Data to School Fundraising
Most schools and school districts can provide the zip codes for which any one school is zoned. Start your planning off by gathering this information, and then head over to census.gov to pull (at least) median age and household income for each zip code. Once you have this information, average them up to get a general idea of what you're working with.
Consider the following analytical processes that can help you make valuable inferences about fundraising from your data:
Skip Number One- Parents and fundraising planning committees may find that the primary demographic of the area they're targeting is their own, which could mean that their neighbors have children participating in the same fundraiser. In this case, focus efforts on a large secondary age or income bracket.
Mediate Age and Income- As mentioned above, age and income are interdependent pieces of demographic data. An older, wealthier person may be a more likely supporter of your school fundraising ideas as someone with expendable income and no children of their own in the same school. A box of delicious chocolates in exchange for supporting their local school seems like a nice treat.
Conversely, an older, lower income person might be on a fixed budget, and while they might love to offer community support, could find it difficult to offer up any contribution for something they simply do not need. Still, a younger, lower income millennial might be willing to make a purchase if they're compelled enough by the cause.
See the grid below to get a sense of how these factors influence the types of products you should consider.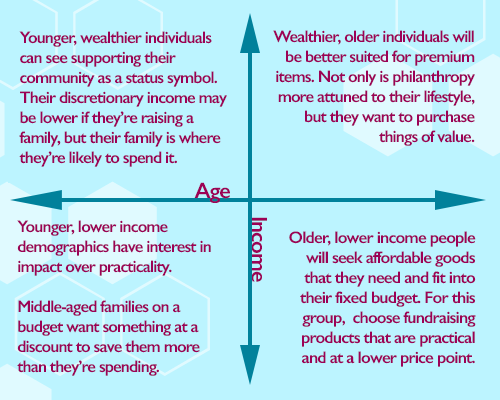 Fundraise to Personas
Nielsen might be most synonymous with television monitoring, but their big data solutions have made them a leader in developing consumer personas—a profile based on intersectional factors like those demographics mentioned above, plus stages of life, types of employment and even spending habits.
Like the U.S. Census, Nielsen drills down to the zip code, making it another useful tool for the fundraising crew at any school or community organization. Their MyBestSegments tool is a free service using Nielsen's Prizm Segmentation System that provides a limited look at high-level information about the personas that comprise a zip code. The quirky, creative and surprisingly insightful profiles can help you form an idea about the "type of person" to which your student body might be marketing their fundraising solutions.
The Nielsen profiles are by no means meant to glaze over the diversity of a given area, but they do help distill a lot of data into pre-packaged interpretations for which marketers used to pay hefty fees. Dive in and see if you school fundraiser needs ideas for "Bedrock America" or "Bright Lights, Li'l City" neighborhoods.
Applying Personas to School Fundraising
Age and income may eliminate a handful of options from all the possible fundraising solutions before you, but adding in the Nielsen profiles can add a completely new layer that incorporates more qualitative interests grounded in quantitative data.
If you're trying to decide between a candy bar fundraiser and a popcorn fundraiser, go beyond price point and take Nielsen into consideration. Is the area particularly interested in health and wellness? Or maybe there are lots of suburban retail areas, making it a great fit for discount cards?
While these profiles provide an extraordinarily helpful qualitative coloring of your possible fundraising participants, don't stray too far from the facts. Hopefully, Nielsen is a supplement to the Census data. Use the personas to help make a more informed choice about your product, and then more so to create a long-term fundraising strategy to share impact and engage with your school's supporters over time.
Simply put, these personas might be more beneficial in figuring out how to make the pitch to your audience than figuring out what to pitch them. Nevertheless, these characterizations should be given their due diligence.
Fundraise to Your Local Culture
You know your own network better than anyone, so in many ways, the most potent source of information and "data" for school fundraising efforts are those people you do life with on a daily basis.
Reflect on your personal circles. Do distinctly different groups come to mind? Are their interests shared or varied? Maybe there's a point of commonality that links them all together. This is a good piece of information to help qualify your data and integrate into your school fundraising ideas.
The relationships you form in the communities in which you and your family live, work and play can make for powerful prospect lists. Think about what interests the ten people you know you could make a sell to: which brochure has products might appeal to them most, and help you raise money for your school?
Applying Cultural Data to School Fundraising
Understandably, many people are reticent to ask colleagues or other parents with children to participate in a school fundraiser. Even if you don't want to make them potential customers for a fundraising solution, their opinion is data worth having. Ask those people in your network what most appeals to them, and conduct something of an informal survey.
Consider questions such as:
How much would you be willing to spend for a perishable good if you both enjoyed it and knew it would support a good cause?
What types of treats are most appealing to you?
Are you more willing to buy a practical item or a sweet treat to help a school cover unfunded expenses?
This is an effective way to link your sales to a cause, and it might even elicit some interest. You can take these results back to your other collected data and see if it aligns with the hard facts. If you're able, consider the demographic of those you surveyed versus the information you've gleaned from the databases above.
Combined, these tools can be powerful ways to transform your school fundraising ideas into robust fundraising strategies to amplify your results, raise big money and meet your goals.