Image

The top 3 barriers social media overcomes for school fundraisers
One of the defining traits of Millennials and their Generation Z successors—the generation now going door-to-door and raising money for their schools—is an inextricable connectivity to social media. You don't need to read the biography of Mark Zuckerberg to know that social media is where we live, work and play in the twenty-first century, which means that, as fundraisers, we should be actively considering how to incorporate this powerful tool into our money-making school fundraisers.
As we shared in a recent article, school fundraising programs are often at the mercy of geographic boundaries created by the intersection of school zoning and competing neighborhoods. However, professional marketers and social media gurus alike will tell you that the boundaries of space and time are virtually nonexistent on the World Wide Web—especially when you're on a platform as widely used as Facebook or Instagram, where millions of users are spending nearly an hour a day.
A survey of corporate marketing strategies by the Chief Marketing Officer Council found that 53% of marketing officers are spending part of their budget on social media community growth, leveraging the powerful impact of a connected and engaged online community. With 28% of CMOs reporting shifts in their traditional advertising budgets to more digital and social marketing, we can extrapolate that, as school fundraisers, this is a sandbox we should be playing in.
This year, you can take your school fundraising ideas to new levels with these tips to engage your friends, family and social circles in your school's mission to raise needed funds for educational and extracurricular programs. We'll explore setting up a page, creating unique and compelling content, and dabbling in Facebook advertising to reach and target your friends and neighbors.
School Fundraising Facebook Pages
In the early dotcom days, a company, cause or business needed a website to have digital real estate. Nearly three decades into the World Wide Web, and websites still require a considerable amount of time, knowledge and tech savvy, even for those "plug and play" platforms.
When it comes to raising money for your school, social media has changed the game with the Facebook "Pages" module. A page allows any Facebook user to set up a digital identity on Facebook for a third-party business, cause or idea. Pages can have multiple contributing users, meaning that your Parent Teacher Organization (PTO) or Parent Teacher Association (PTA) committee members can all contribute and use this tool to help promote your fundraiser within their networks.
Setting up a Page is extremely simple, and it is the first step in opening the door to connected, engaged and media rich communication. Simply login to Facebook as a user, click the down arrow in the top right corner, and select "Create a Page." Facebook will then guide you step-by-step in a quick set-up process that will help categorize your page. (You can check out Facebook's official guide to creating Pages, and associated questions here.) You'll also be able to assign other users as administrators or editors, so you won't be alone in managing this digital property.
Overall, it's a low-input, high-return addition to traditional grassroots fundraising. The Facebook Page is most powerful in its ability to tell your fundraising story to audiences who may not live in your neighborhood. How about those high school friends you still message with weekly? Or those family members living across the country? Aren't these all valuable prospects?
Use the page as a hub with a virtually unlimited number of spokes. As committee members, students and parents alike engage with the school fundraising program page, you'll reach an exponentially larger network without ever printing a flier.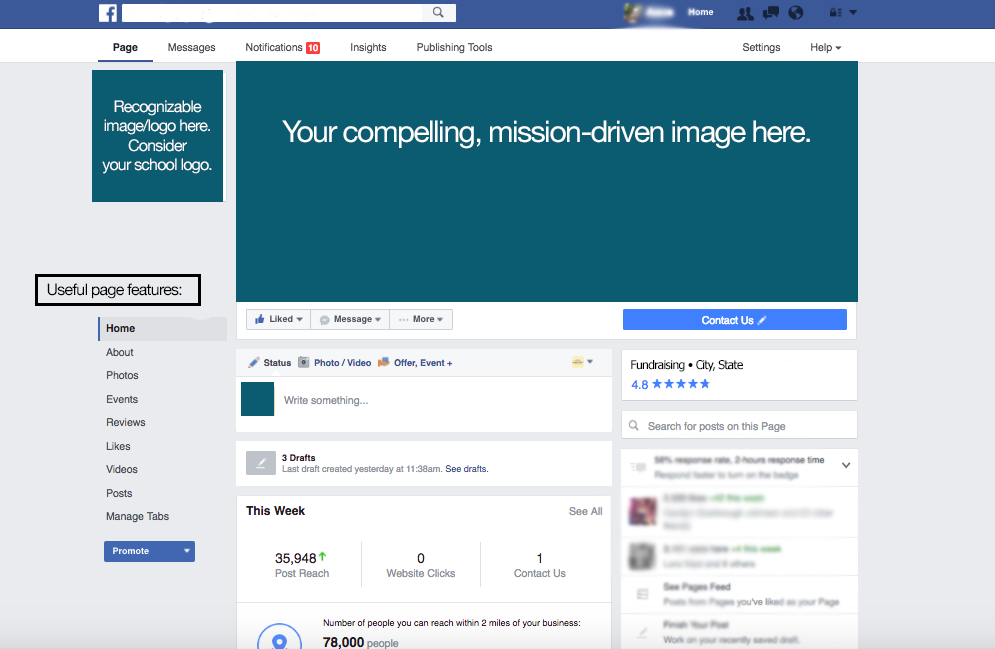 A few tips to make your page a useful tool to drive fundraising success:
Treat your page as mission central. Your school fundraiser should be an inspired and mission-driven program, and that should be clear in the information you put on your page, from the "About" section to the types of posts you put up. We'll discuss content a bit later, but be sure that your cover photo, logo and general information all help answer the "why" behind the "what" for your school fundraiser.
Invite, invite, invite. In 2015, AdWeek charted the average number of "fans" Facebook Pages of various sizes have. Fans are a critical metric, because it represents the number of people who opt-in to see your posts on their news feed. For the smallest bracket, the average number of fans was around 360. We'd expect community-based schools and fundraisers to fall in this bracket given the limitations on audience and number of relevant users, as well as the often short time frame.
Because building a fanbase takes some time, you should personally invite people to your like page using the invite function to get the highest engagement possible, as quickly as possible. Since your friends have a personal affinity for you, they're the most likely to opt-in to receiving information on their feed relating to your fundraising mission and vision. Distribute information to students, teachers and committee members telling them how they can use their social networks to generate interest, too. Students looking to win big through incentive prize programs will find sharing posts from your page an especially appealing way to attract potential customers.
Leverage the network. You're likely not going to get 1,000 fans in the three or four weeks you're running a school fundraiser, but if you plan well, you could get a couple hundred (read: a couple hundred engaged, passionate customers you can cultivate through sharing success and gratitude). Giving parents and students the information to share on their own social networks, and passing along the same tip to "invite, invite, invite" is your best bet for maximizing exposure at no cost. Plus, if you keep the page updated throughout the year by sharing success stories related to your fundraiser, you have a strong base for the following year.
As you can see, the Facebook Page is prime digital real estate that is as successful and useful as you want it to be. From running ads to hosting events, the Page functions as a unified identity and message for your elementary, middle or high school fundraising program, and it brings grassroots fundraising efforts seamlessly into the digital space. Moreover, it serves as a hub for you to share compelling content that can help tell the story of your fundraiser, which brings us to the next critical component of marketing your fundraiser online.
Tell Your School Fundraising Story with Content
Social media is nothing if not a supermassive hub of content: stories, links, posts, articles, photos, gifs, videos, interactive widgets and so on. Forbes reported that 76% of businesses are engaging in this kind of marketing with their consumers, while the Content Marketing Institute indicated similar trends among nonprofits.
From user-generated personal posts (the kind that you, as a parent or teacher, will be producing about your personal connection to a fundraiser) to brand-driven corporate advertising, those 50 minutes we spend daily on Facebook, Twitter, Instagram and Snapchat are all about content.
Earlier, we discussed how a Facebook Page for your product or brochure fundraiser is powerful largely for its ability to digitally tell the story of your fundraising mission. If raising money by selling items is your "end," telling your story through digital content should be an innovative part of your "means" as you aspire to new levels of fundraising success.
There's a lot of digital marketing jargon out there, but don't get mired down in the technical terms and intimidating corporate statistics. Instead, focus on telling a story that matters to your friends and neighbors with these content essentials:
Inspire with your mission. We've discussed at length that one of the primary ways to engage and retain donors or customers is to lead with mission from a "systems" perspective. We used the example of a framing a mission for a fundraiser to purchase school supplies as "Meeting the needs of all students and teachers, so that our community has the tools for academic success."
Thus, your content should always include some reference to this motivating message. Whether through a photo or a short anecdote, let your audience know what they're doing at a systemic level when they participate in your fundraiser as shortly and sweetly as possible.
Be audience-centric. "What's in it for me?" This is the central question that many content marketers miss the mark on. If you haven't answered this question in the content, you may be losing interest and engagement from potential donors. For most fundraisers, the answer will in some way be "a better community" or "a brighter future." Personalize that principle to your school's mission, and see if someone can answer that question before you click "post." As content expert Gregory Hadden shared with AdWeek, "More than any kind of storytelling, content marketing gives powerful reasons to believe and to belong."
Create a content calendar. A content calendar is one of the most efficient and powerful tactics that can enhance the efficacy of your content marketing efforts. Create a simple spreadsheet with the days of the week on the x-axis and the weeks of your fundraiser on the y-axis. Then, pre-fill four or five of the blocks with short text, video or graphics posts.
Consider creating an overall story arc using a framework like Monroe's "Motivated Sequence" that can help theme the messages each week. Consider the following:
Two weeks before the fundraiser: Share the mission, and generate interest by creating a sense of need.
Week one of the fundraiser: Feature the products or brochure program your school is using.
Weeks one and two: Visualize success by providing real testimonies of the impact classrooms experienced when their needs were met.
Week two: Share preliminary results and paint a picture of what someone's participation can do. Urge action.
One week after: Share final results and thank those who participated.
Throughout the year: Continue sharing stories to keep participants engaged.
Diversify your media. While school protocol always comes first, do what you can to put your digital audience face-to-face with the good work they're able to do by participating in your fundraiser. Real photographs from classrooms, or even stock photographs from the web, add an extra layer of personalization. Get quotes from teachers, parents, students and faculty. Connect with the school to see if their media classes can join in with a student-produced video to help engage the community. Remember, a resource may not raise money directly, but could have immense value in other ways.
Advertise Your School Fundraiser
Facebook Advertising can be a rather advanced topic, but it's most basic functions are still relevant to our interests in generating engagement.
If your school fundraiser has a small budget, consider sliding $25 toward some digital advertising with a "boosted post." The boosting function on Facebook is a way to experiment with paying so that your content will show up on other people's news feeds, even if they haven't liked your page. While not quite as detailed as a Facebook ad campaign, the boosted post lets you do some basic demographic targeting and can gather valuable intelligence about your local audience and what kind of content they want to see.
Go Ahead, Try It!
To be sure, bringing your school fundraiser into the social media space can be intimidating. Consider pitching it to your committee to see if someone wants to step up as the "social media chair," and spearhead your digital efforts. Additionally, communicate with your student body and faculty about the opportunity to participate by advertising this year's product or brochure fundraiser in the social space. Encourage them to reach out to friends, families and their digital network to reach new levels of fundraising success.
When you choose quality products, assert an empowering and meaningful mission, and include motivating incentives, your school fundraiser's success on social media may just surprise you. If you're interested in getting great fundraising content delivered to your newsfeed, go ahead and like us on Facebook for a new feature article every month.